The Los Angeles Chargers hope to build on Year One of Anthony Lynn through the 2018 NFL Draft. L.A. is blessed with a talented roster that nearly made the playoffs. That means they need to find the best player available throughout the entire NFL Draft.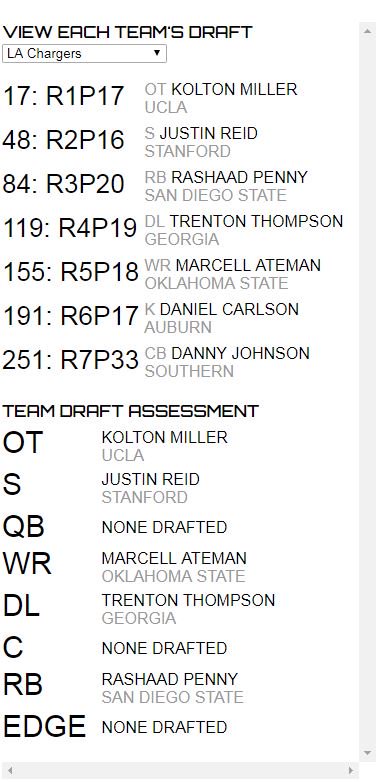 First Round (17): Tackle Kolton Miller, UCLA
The Los Angeles Chargers need an upgrade at both tackle positions. Russell Okung was surprisingly consistent last year but he's aging at left tackle. Meanwhile, right tackle has needed an upgrade for a few seasons. The Chargers will need to get help there if they want to keep Philip Rivers playing and Melvin Gordon healthy.
Miller was productive at UCLA and he brings the size and athleticism to play both tackle spots and possibly slide inside to guard. Seventeenth is a bit on the higher end of his draft value but he is a local prospect and this tackle class is not that deep.
Second Round (48): S Justin Reid, Stanford
Tre Boston isn't under contract with the Chargers and L.A. needs to find his replacement if that continues. Rayshawn Jenkins and Desmond King could play that spot after good rookie seasons but the Chargers might be better off adding another player regardless.
Justin Reid makes a ton of sense. He's the younger brother of Pro Bowl safety Eric Reid and Justin is just as good of a prospect. The younger Reid brings athleticism, instincts and production that should help him play both safety spots. Justin Reid can help the Chargers continue adding to their secondary. This is also a great value spot for him since he could go in the first round.
Third Round (84): RB Rashaad Penny, SDSU
Want to win back some San Diego fans? How about taking a SDSU running back that lit it up for the Aztecs? Rashaad Penny was one of the most slept on running backs in his class.
He is just under six-feet-tall, over 200 pounds, lit up Senior Bowl and dominated the NFL Combine. Not only did Penny rush for 2,000 yards last year but he put up 1,000 rushing yards the year before too. He's caught 6 career touchdowns and returned kicks which proves he can be the change of pace back for the Chargers as well as provide assistance on special teams. Plus, Penny would be an instant fan favorite.
Fourth Round (119): DL Trenton Thompson, Georgia
The Chargers finally venture out of their state for a pick. Trenton Thompson is a three-technique defensive tackle with a lot of size, physicality and production for the position. Thompson took a few steps back and battled some injuries for Georgia last year but he is still a good prospect.
This is a little bit high for him. However, he's the most NFL ready defensive lineman available at this point in the draft. Thompson can use his size and strength while the Chargers pass rushers command all the attention. Not to mention, the Chargers need depth on the defensive line especially as Corey Liuget is about to start the season with a suspension.
Fifth Round (155): WR Marcell Ateman, OSU
Marcell Ateman is the best player available and the Chargers have no regrets. Yes, they're deep at the receiver position but you can never have too many six-four, receiving targets.
Ateman was a senior who had his best season in 2017 with 8 touchdowns and over 1,000 receiving yards. He doesn't have the straight line speed that many NFL teams want which is why he is available this late. Nonetheless, the Chargers get a big receiver who is a nice insurance policy if Mike Williams doesn't return. Ateman could develop into a nice receiving threat and the Chargers have time to develop him.
Sixth Round (191): K Daniel Carlson, Auburn
It feels like kicker has been the Chargers Achilles' heel for way too long. Hopefully, Daniel Carlson can finally provide some stability. Carlson has the leg to kick field goals and kick-off. He was very good in the SEC last year eventhough he struggled from some accuracy. He has good athleticism for the position.
Why not? It's only a sixth round pick and the reward will be great for L.A. if Carlson develops into a starter.
Seventh Round (251): CB Danny Johnson, Southern
Danny Johnson was a four-year starter and he lead the FCS in interceptions. He can play in both zone or man coverage and he returns kicks.
Johnson should be able to play in the slot or outside too. This is a low-risk, high-reward pick as the Chargers continue to build on their strength in the secondary. They had some injuries there last year so adding some depth never hurts.