We've made it.
It's finally here.
Seahawks' players report to the Virginia Mason Athletic Center in Renton, Washington today, and tomorrow, July 26th, training camp practice sessions begin. With plenty of areas of interest to follow over the next few weeks, let's take a moment to look at how the 2018 Seahawks might take shape on the field. Following a 9-7 season and a flurry of player departures in the offseason, these Seahawks have question marks in just about every department, other than quarterback. With this in mind, here are four storylines to focus on going into Training Camp.
The Earl Thomas situation:
The former All-Pro free safety has said he will not report to Seattle until his contract is re-done. The Seahawks seem uninterested in giving in and extending Thomas with a year remaining on his current deal. Seattle's management appears to have all the leverage in this case, as they can already fine him up to $84,000 for missing mandatory minicamp and each additional missed training camp session can result in continued docking of paychecks. Plus, if Thomas doesn't report to the team by August 7th, the 2018 season will not count as an accrued year per the CBA.
There's also the possibility of a preseason trade, with the most likely partner being the Dallas Cowboys. A swap is unlikely at this point however, as Earl is much more valuable to the 'Hawks than any likely compensation they would receive at this point.  Any deal would probably be on hold until injuries force a team's hand.  You can read here a full breakdown of Seattle's options regarding Thomas.
The defensive backfield:
Richard Sherman and Kam Chancellor are gone, with Thomas expected to be a no-show. Veteran Byron Maxwell was brought back to be a short-term option at starting cornerback opposite Shaquill Griffin. With so many unsettled spots in the secondary, the big question as training camp unfolds is which young player(s) will step up and see an increase in playing time.
Rookie Tre Flowers is one player in-line to challenge for reps through camp. Flowers, drafted this past April out of Oklahoma State in the fifth-round, is the long-term answer the Seahawks want on the right side of the secondary.  The 6′ 3″ rookie will push the 30-year old Maxwell hard for snaps.
Delano Hill is a second-year player who should also get a long, hard look in camp. With Earl Thomas holding out, veteran Bradley McDougald will slide to free safety, leaving a hole at strong safety following Chancellor's "retirement".  Hill is a true box-safety,aggressive in run support and a prototypical downhill-tackler. Delano should be plenty active playing near the line of scrimmage in the Seahawks' strong safety/ 4-4 linebacker hybrid spot.
The wide receivers:
There's been some serious turnover for the Seahawks' receiving group. Paul Richardson and Jimmy Graham are gone. Newcomers are here to try to fill the roles of the departed, but fans are left wondering, can they produce at the same level?
In May, the Seahawks signed veteran receiver Brandon Marshall to a low-risk, one-year contract. Seattle hopes Marshall will be the big receiving target for quarterback Russell Wilson they lost when Jimmy Graham signed as a free agent with the Packers. Though as training camp begins, it's unclear how much Brandon has left to give. He was absent from the majority of offseason practices, spending time at home in Florida while rehabbing his foot post-surgery. Fans will be plenty interested in watching how Marshall's time in camp unfolds.
Jaron Brown was signed as a free agent from the Arizona Cardinals to a two-year, $5.5 million deal in the off-season. At 6-0, 205 pounds and with 4.45 speed, Brown could step into the role vacated by Richardson as the Seahawks' deep threat. It will be essential for Jaron to click with Russell Wilson early in camp if he is to hold off promising youngsters Amara Darboh, David Moore and Damore'ea Stringfellow.  You can check out our breakdown of the Seahawks' receiver depth chart here.
Who starts at running back?:
Once Chris Carson went down for the year in week five, the Seahawk's running game was atrocious for the remainder of 2017.  Enter rookie 2018 first-round draft pick Rashaad Penny. A three-down back with the power to break tackles, Penny will have to prove that he can be trusted in pass protection if he hopes to pry the starting gig away from Carson. One of the reasons Chris won the starting role last year as a rookie was that he performed so well in pass-protection during camp. The Seahawks aren't ready to give Penny the job of lead rusher yet, and he will have to earn it on every single rep he takes.  Expect Penny and Carson to split snaps throughout the summer.
For his part, Chris Carson isn't going to roll over and give up anything to anyone else. "My mindset is still the same way[as a rookie]," he told reporters in May. "I got to try to fit in, try to prove myself each and every day. You never want to get comfortable, because they're always trying to find somebody to replace you each and every year."
Another key battle to watch for in Seattle's backfield is the one for the passing-back role.  C.J. Prosise, Mike Davis and J.D. McKissic are all receiving threats who may be battling for one, maybe two spots on the roster.
Here's Seattle's 2018 Training Camp schedule:
Here's where you can watch Seahawks' training camp live online.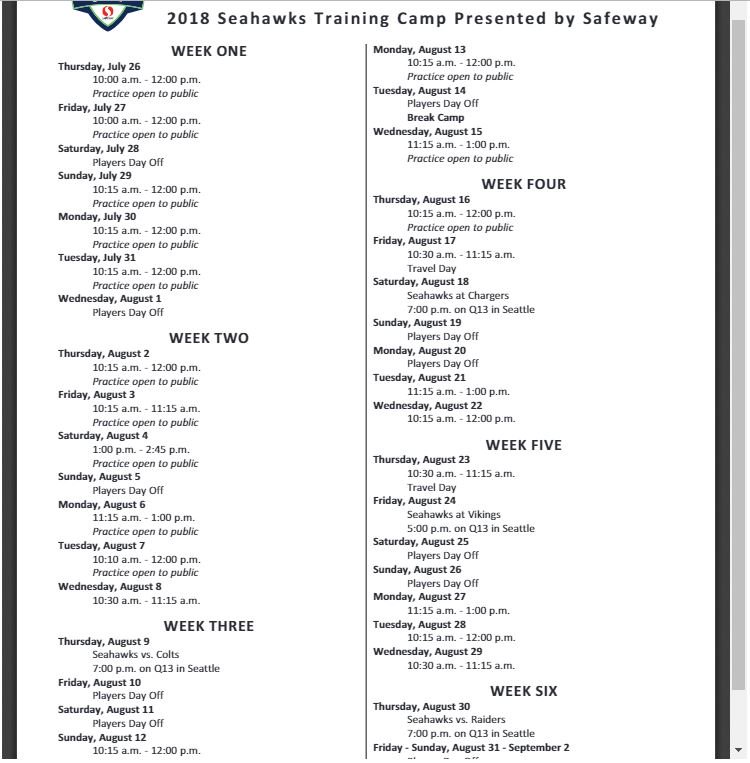 David Rogers covers the Seahawks for Full Press Coverage. Follow him on Twitter.