The 2019 NFL offseason is months away, and no one knows what will happen, but one potential free agent star is seemingly making some quiet moves on his plans this spring. The saga between Le'Veon Bell and the Steelers has been going on for what seems like a decade, but this season it has finally come to a head. The two-time All-Pro has decided to extend his holdout into the regular season after not reporting to the club before their season opener against the Browns. This no show has started some bickering between Bell and his offensive lineman, and it seems to be that the relationship between the two sides is nearing a point of no return as reports are that Bell plans on sitting out more than a month, sacrificing over $800K per game missed.
If Bell is ready to go toe to toe against his teammates, its safe to say he is prepared to leave Pittsburgh for greener pastures, or maybe he has his sights set on bluer pastures instead. As pointed out by former Colts punter Pat McAfee, Bell is displaying some interesting social media activity in the past few weeks; he is showing Indy plenty of love. On the official NFL Instagram page, the three-time pro-bowler has liked and commented positively on the past four Colts related posts, and only on Colts related posts. Throwing up the eye emojis, fire, and a few more, Bell is making a statement: maybe a not so subtle signal to Chris Ballard and company that he wants to head a few hours west to join the Colts in 2019.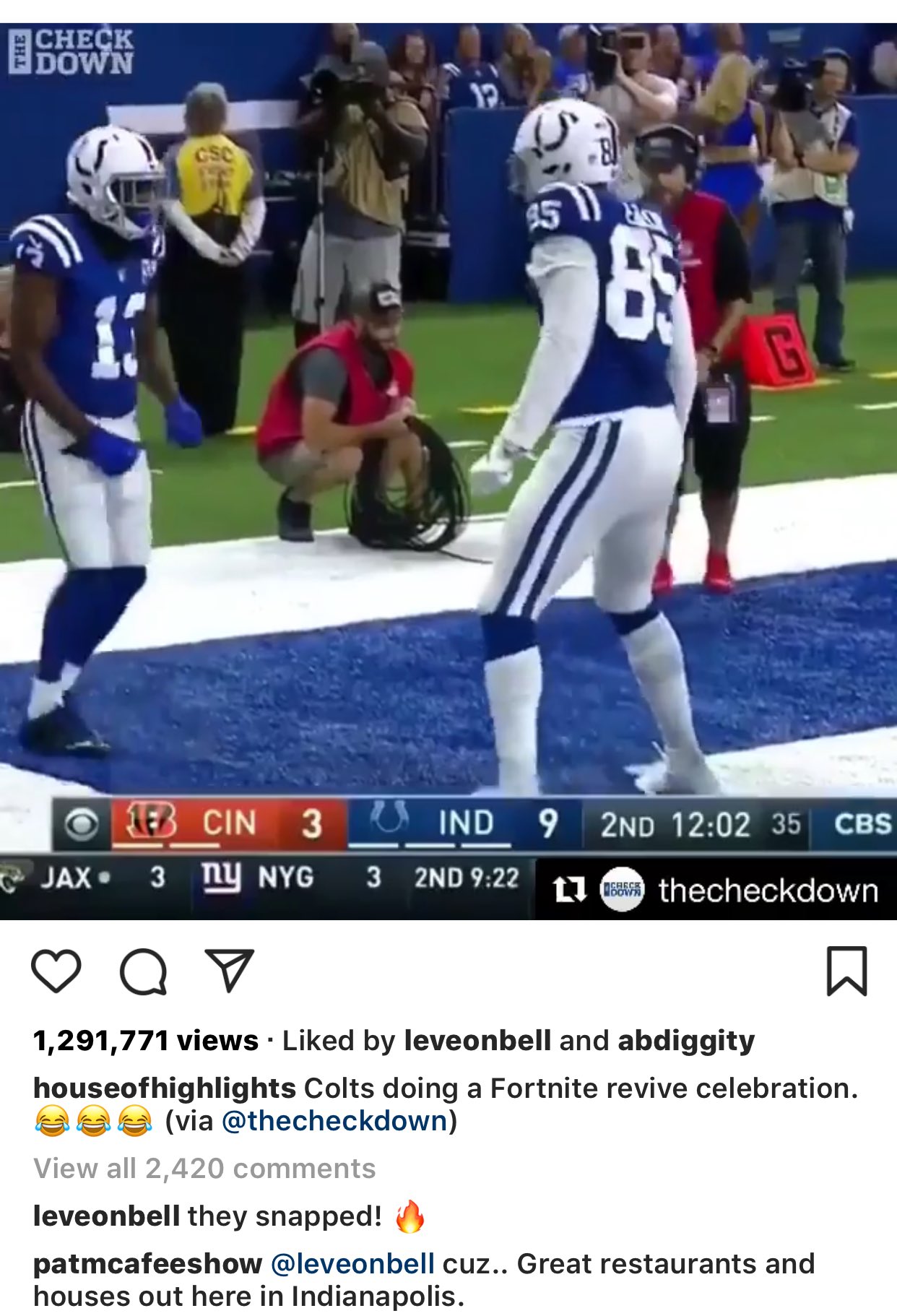 Is this a bit speculative, of course, but it's hard to ignore the signs when he only comments on Colts posts. Indy is an attractive option for Bell, as the Colts boast: nearly $120 million in cap space, an All-Pro caliber QB, three first round picks on the offensive line, a talented tight end group, T.Y. Hilton, a forward-thinking offensive guru for head coach, a notoriously fast Lucas Oil turf, and an owner willing to spend the money to make a splash. It is easy to see why Bell would prefer the Colts as an option in 2019, or at the worst, have the Colts drive up Bell's price on the open market for another team.
There is plenty of evidence to show that Bell would love to don the horseshoe in 2019, but would the Colts take him? Almost every fan reading this may have just shouted at the screen "of course!" but it may not be that simple. The Colts may have the money, but does Ballard want to spend it? Ballard has built a reputation early on in his career as a build through the draft mentality, so adding a high price six-year veteran running back may not fit that method.
Ballard has also invested plenty of draft capital into the running back position. Marlon Mack, Nyheim Hines, and Jordan Wilkins were all drafted in the past two drafts and are talented in their own right. Bell also has plenty of wear on him with multiple injuries and off the field issues, so a long-term investment in the back may not work out in the long term.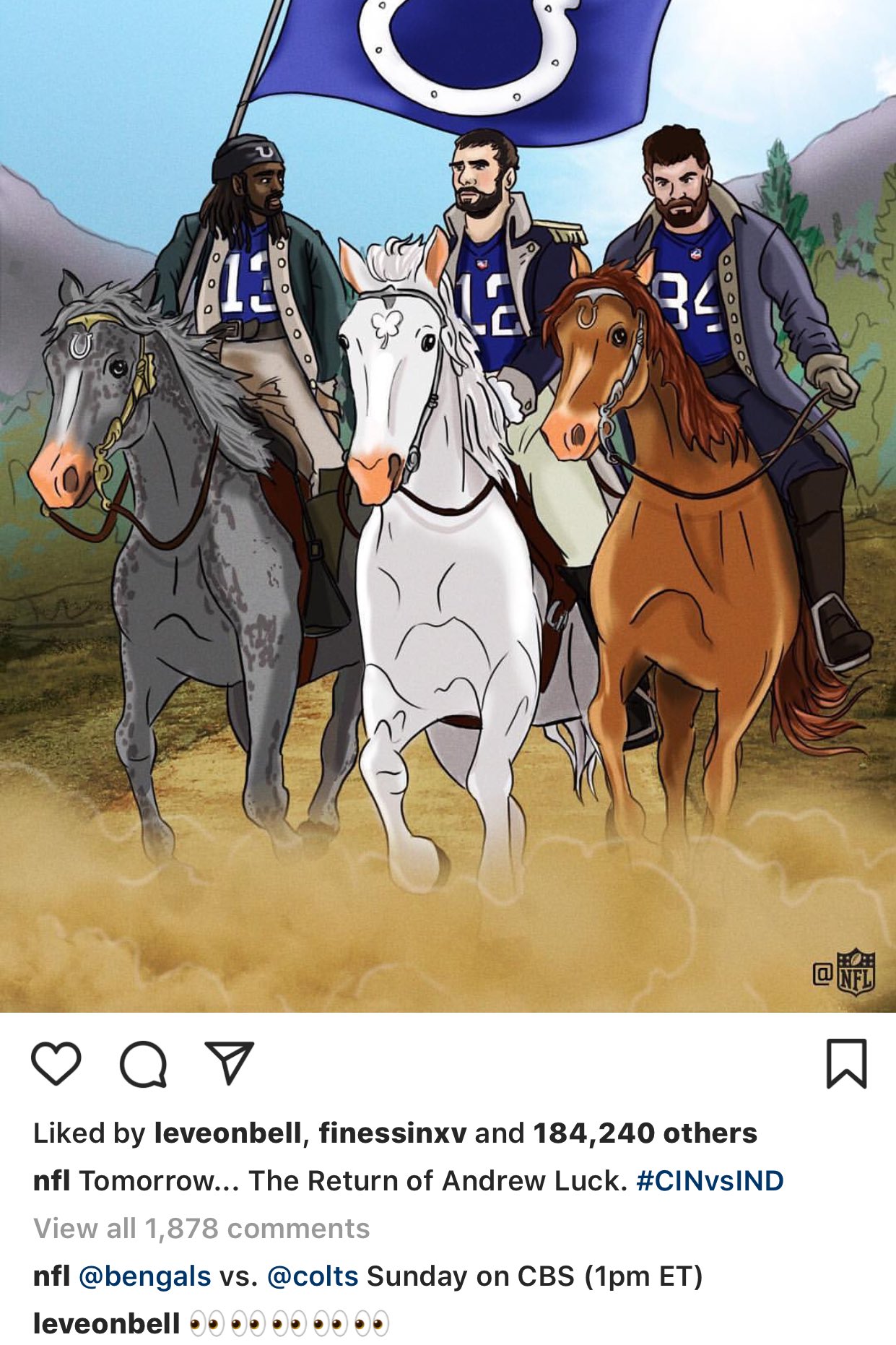 All of this said, the Colts should add Bell if they can. The Colts have $120 million in cap space with little to resign and plenty of draft capital, a perfect combination. Running back isn't the highest on the needs list for the Colts, as a pass rusher, right tackle, linebacker, wide receiver, and cornerback are considerably bigger needs for the club, but unless there are some unexpected moves before March, not many name changes will be available in free agency at those positions. There aren't any great tackles available, nor many wide receivers or corners, there are a couple of linebackers and pass rushers, but who says they even reach free agency. Most likely the Colts will have plenty of money to sign Bell and the top players at other positions of need while resigning or extending some of their own, and still, have a lot left over.
As for position depth, Mack, Wilkins, and Hines are all great pieces, but none of them are nearly as talented as Bell. Which means the Colts will either trade, cut, or run one or more of them, or a four-person depth chart come 2019. Bell, on the other hand, is only 26–many forget about that–and should still have another three to four years of elite production if he stays healthy.
What would a contract look like? If you're Bell, you would like to see something close to or better than Todd Gurley's four year/$57.5 million extension with $45 million guaranteed. If you're the Colts, David Johnson's three year/$39 million contract with $30 million guaranteed would be much easier to swallow. Most likely it's a happy medium, maybe somewhere of a four-year deal worth $60m and $30-40 million guaranteed. This deal would allow the Colts to have Bell for the remainder of his prime if they want, or a commitment of only two to three years if he flops. Bell would get to be the highest average salary for a running back in league history with a large amount of guaranteed money as well with some room to cash in on a third contract if he can perform.
There aren't many "sure things" in the world, but with all the current evidence in front of us, the ball seems to be in Chris Ballard's court. If the Colts' GM wants Bell, he gets him. If not, Bell will have to look elsewhere for his big payday. In my own opinion, he does look good in blue!
Article by: Maxx Hotton
Follow me @getinhottonhere
Follow us @FPC_Colts