The Tampa Bay Buccaneers made the biggest splash of free agency in landing quarterback Tom Brady. As we turn the page on free agency and begin to focus on the 2020 draft, keeping Brady upright should be the Bucs' top priority. Tampa added a veteran tackle in free agency in the form of Joe Haeg, but it is no secret they are still looking to address this need via the Draft. So we take a look at the best options available in this 2020 class:
1. Andrew Thomas: Offensive Tackle, Georgia
Andrew Thomas was a three-year starter at tackle for Georgia, having experience playing both sides of the line which makes him one of the more NFL-ready tackles in this class. At 6'5″ and 320 pounds, Thomas has prototypical NFL tackle size. He is as polished of a prospect as there is available this year. Furthermore, Thomas possesses the flexibility to move Donovan Smith to right tackle and play left tackle, or play right tackle himself. He has all of the traits of a plug-and-play guy from day one and should be at the top of the Bucs' list in terms of first-round targets.
2. Jedrick Wills: Offensive Tackle, Alabama
Jedrick Wills was a guy who made a big jump from his second to third season at Alabama and established himself as the cream-of-the-crop of this year's class. Similar to Thomas, Wills has the prototypical NFL size at 6'5″ and 320 pounds. He played strictly right tackle in college, but with a left-handed quarterback, he was protecting his blindside. Wills has shown his strength in pass protection, as well as the ability to be a force in the run game. He would be the perfect piece to the Bucs' hole at right tackle. Moreover, with the possibility of eventually moving him to left tackle to replace Smith, Wills should be very high on their draft board.
Latest Buccaneers News
3. Tristan Wirfs: Offensive Tackle, Iowa
Tristan Wirfs spent the majority of his collegiate career playing right tackle for the Hawkeyes. However, some believe his biggest strength is his ability to play on the interior of the line as well at the next level. He has elite size at 6'5″ and over 320 pounds and is a dominant force at the point of attack. He is a player that would provide the Bucs with versatility with the potential to play right tackle or move inside and challenge Alex Cappa at right guard. Another guy who will garner a first-round pick, he should be on Tampa Bay's shortlist of players worthy of their consideration with the 14th overall selection.
4. Mekhi Becton: Offensive Tackle, Louisville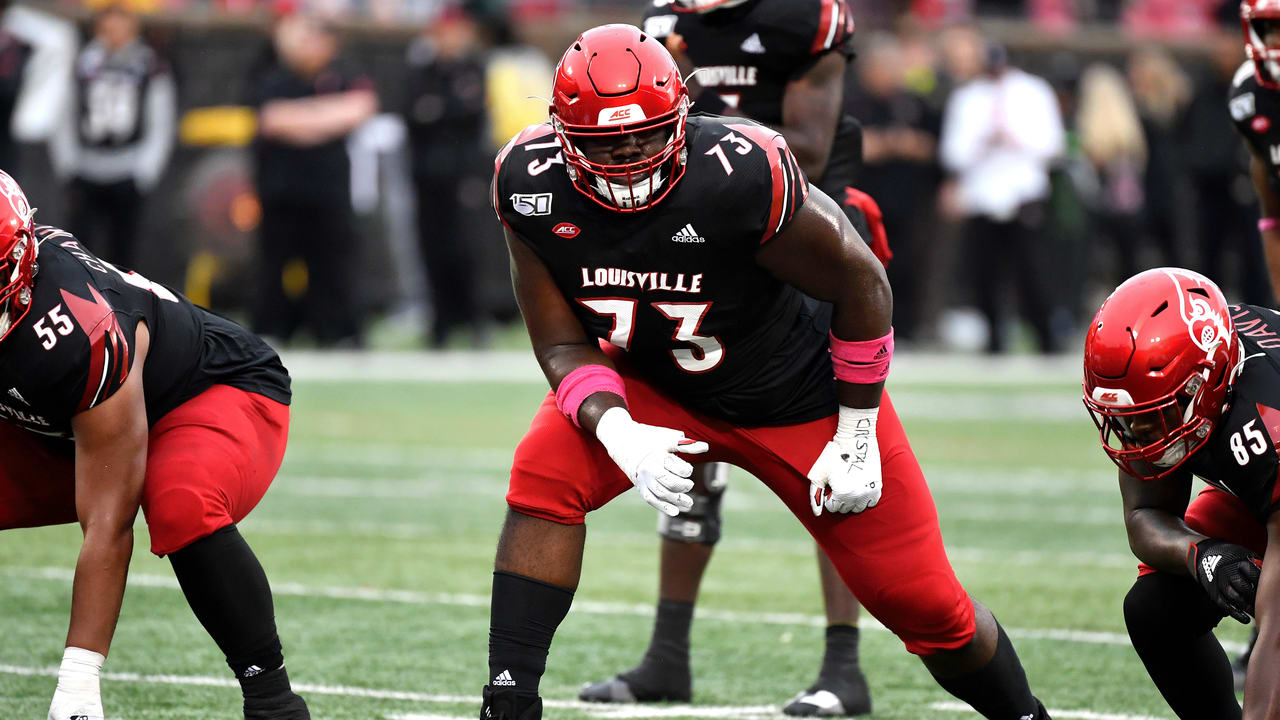 Mekhi Becton jumps off the screen when you watch him. At 6'7″ and almost 370 pounds, he has elite size. To go along with that, he wowed scouts at the Combine with his speed and agility. Becton played primarily left tackle at Louisville, and likely projects to play the same spot at the NFL level. He is not quite yet as fundamentally sound as the three guys listed above him on this list, but he possesses the greatest upside of any in this class. While still a little raw, his potential is undeniable and he should be in the upper-echelon of players on the Bucs' board.
5. Josh Jones: Offensive Tackle, Houston
The drop off from the top four tackles in this class to the next group of guys is rather significant. A case could be made for a number of prospects at this spot, but I went with Josh Jones over Isaiah Wilson from Georgia. Jones is another guy who is still a little raw, and will likely need some time before becoming a reliable starting left tackle in the NFL. However, at 6'5″ and around 310 pounds he has the size and showed flashes of the requisite skills to develop into a top-notch tackle at the next level. If the Bucs miss out on the top four in this class, this is a guy with big-time upside who they could trade back for.
Overall, while this offensive tackle class can be seen as top-heavy, it is also very deep with plenty of talent to be had beyond the top 14 picks. With that said, I'm sure the Bucs have their eyes on one of the top four prospects in the class. That includes the possibility of potentially trading up to ensure they do get one. However it does unfold in just a couple short weeks, Tampa Bay's top priority going into the Draft must be to protect their new quarterback, Tom Brady.